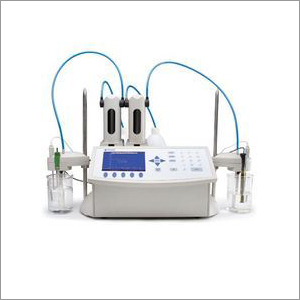 Automatic Titration System
Product Description
Under the exemplary leadership and guidance of our expert professionals, we have been able to emerge as a trusted manufacturer and supplier of Automatic Titration System. This system is used to determine precipitation, argentometric and ion selective titrations. Our expert workforce uses quality grade materials and components to manufacture this system. The system detects the endpoint and performs all necessary calculations and graphing. We offer Automatic Titration System at cost effective prices to clients.
Features:
Accurate laboratory analysis
Easy to setup
Longer functional life
Further Details:

The HI902C is an automatic titrator that complements our wide range of products dedicated to efficient and accurate laboratory analysis. The HI902C potentiometric titrator can perform acid/base, redox (ORP), complexometric, precipitation, non-aqueous, argentometric, and ion selective titrations, as well as back titrations and titre determinations. This powerful titrator automatically dispenses the titrant, detects the endpoint, and performs all necessary calculations and graphing. In addition to titration, the HI902C also operates as a fully functional pH, mV/ORP, and ion selective electrode (ISE) meter.
Specifications
| | |
| --- | --- |
| Programmable Stirrer | propeller type, 100 to 2500 rpm, resolution 100 rpm |
| Display | 5.7" (320 x 240 pixel) backlit color LCD |
| Burette Sizes | 5, 10, 25, and 50 mL |
| Burette Resolution | 1/40000 |
| Display Resolution | 0.001 mL |
| Dosing Accuracy | ±0.1% of full burette volume |
| Methods | up to 100 methods (standard and user-defined) |
| Burette Auto-Detection | burette size is automatically recognized when inserted into the unit |
| Flow Rate | user-selectable from 0.1 mL/min to 2 x burette volume/min |
| Endpoint Determination | equivalence point (1st or 2nd derivative) or fixed pH/mV value |
| Potentiometric Titrations | acid/base (pH or mV-mode), redox, precipitation, complexometric, non-aqueous, ion-selective, argentometric |
| Measurement Units | user-specified expression of concentration units to suit specific calculation requirements |
| Real-Time & Stored Graphs | mV-volume or pH-volume titration curve, 1st derivative curve or 2nd derivative curve; pH mode, mV mode or ISE mode: pH/mV/concentration versus time |
| USB Host (Side) | flash drive compatibility for transfer of methods and reports |
| Peripherals (Rear) | connections for VGA display, PC-keyboard, parallel printer, USB device input, RS232, interface for autosampler |
| GLP Conformity | instrumentation data storage and printing capabilities |
| Languages | English, Portuguese, Spanish |
| Operating Environment | 10 to 40°C (50 to 104°F), up to 95% RH |
| Storage Environment | -20 to 70°C (-4 to 158°F), up to 95% RH |
| Power Supply | 100-240 VAC; "-01" models, US plug (type A); "-02" models, European plug (type C) |
| Dimensions | 390 x 350 x 380 mm (15.3 x 13.8 x 14.9 in) |
| Weight | approximately 9 kg (20 lbs.) (with one pump, stirrer and sensors) |
Contact Us
3,4,5,6 First Floor, Aumsai Building, Plot No. 23C, Sector-7, Kharghar,, Navi Mumbai, Maharashtra, 410210, India
Phone :+918045802111