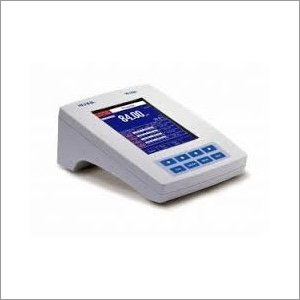 HI 4222A pH and Ammonia Kit
Product Description
We have carved a niche in the market as a prime organization engaged in manufacturing and supplying HI 4222A pH and Ammonia Kit for Wine. This device is used for measuring the pH value and amount of ammonia present in wine. Our expert workforce uses quality grade materials and components to manufacture this device. We test this device on defined quality parameters to provide the flawless range to clients. Clients can avail this HI 4222A pH and Ammonia Kit for Wine at affordable prices from us.
Features:
Easy to operate
Longer working life
Dot-matrix color LCD
Further Details:

The nitrogenous compounds of must and wine are derived from grapes and can be augmented with yeast nutrients. They play important roles in fermentation, clarification, and potential microbial instability of wines.
The amount of ammonium ions in must influences the rapidity of fermentation start and evolution. The ammonia concentration ranges are from 24 to 209 mg/L (ppm) in grapes and from a few mg/L (ppm) to about 50 mg/L (ppm) in wine.
The content of ammonium ions will drastically decrease during the alcoholic fermentation, then increase again, especially in red wines, at the end of the malolactic fermentation becuase the lactic bacteria release ammonia nitrogen into the wine.
| | | |
| --- | --- | --- |
| pH | Range | -2.000 to 20.000 pH |
| pH | Resolution | 0.1 pH; 0.01 pH; 0.001 pH |
| pH | Accuracy | ±0.1 pH; ±0.01 pH; ±0.002 pH ±1 LSD |
| mV | Range | ±2000 mV |
| mV | Resolution | 0.1 mV |
| mV | Accuracy | ±0.2 mV ±1 LSD |
| ISE | Range | 1 x 10-6 to 9.99 x 1010 concentration |
| ISE | Resolution | 1; 0.1; 0.01; 0.001 concentration |
| ISE | Accuracy | ±0.5% (monovalent ions); ±1% (divalent ions) |
| Temperature | Range | -20.0 to 120°C; -4.0 to 248.0°F; 253.15 to 393.15K |
| Temperature | Resolution | 0.1°C; 0.1°F; 0.1K |
| Temperature | Accuracy | ±0.2°C; ±0.4°F; ±0.2K (without probe) |
| Calibration | pH | automatic, up to five point calibration, eight standard buffers available (1.68, 3.00, 4.01, 6.86, 7.01,9.18, 10.01, 12.45), and five custom buffers |
| Calibration | ISE | automatic, up to five point calibration, 5 fixed standard solutions available for each measurement unit, and 5 user defined standards |
| pH Calibration Checkâ"¢ | | yes |
| Rel. mV Offset Range | | ±2000 mV |
| Input Channel(s) | | 2 pH/ORP/ISE |
| GLP | | cell constant, reference temperature/coefficient, calibration points, cal time stamp |
| pH Temp. Compensation | | automatic or manual from -20.0 to 120.0°C/-4.0 to 248.0°/253 to 393K |
| pH Electrode | | HI 1131B glass body pH electrode with BNC connector and 1 m (3.3') cable (included) |
| Temperature Probe | | HI 7662-T stainless steel temperature probe with 1 m (3.3') cable (included) |
| Logging | Record | 100 lots with 10,000 record/lot |
| Logging | Interval | settable between 1 and max log time |
| Logging | Type | automatic, log on demand, auto HOLD |
| Display | | 240 x 320 dot-matrix color LCD with on-screen help, graphing, language selection and custom configuration |
| PC Connection / Power Supply | | USB and RS232 / 12 VDC adapter (included) |
| Environment / Dimensions / Weight | | 0-50ºC (32 to 122ºF) (273 to 323K) RH max 95% non-condensing / 160 x 231 x 94 mm (6.3 x 9.1 x 3.7") / 1.2 Kg (1.8 lbs.) |
Contact Us
3,4,5,6 First Floor, Aumsai Building, Plot No. 23C, Sector-7, Kharghar,, Navi Mumbai, Maharashtra, 410210, India
Phone :+918045802111